Jay Wiener's Race Diary: Dolomitenlauf
Jay Wiener is an American Worldloppet skier and tells us stories from his Worldloppet winter season 2017.
| | |
| --- | --- |
| Date: | 11.02.2017 |
| Contributed by | Dolomiten Lauf |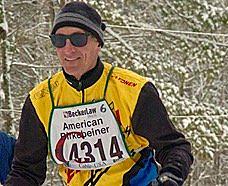 Jay Wiener
San Francisco, California
12 times Worldloppet Master
Jay Wiener's race diary - Dolomitenlauf 2017
Obertilliach, Saturday January 21, 2017 and Sunday January 22, 2017:
A captivating aspect of participating in Worldloppet races is the opportunity to enjoy experiences apart from one's quotidian existence at home. The thrill of accessing compelling cultures, history, and people counterbalances the exhilaration of athletic pursuit; caring for one's mind and body, simultaneously, as it were.
The Dolomitenlauf is Exhibit "A" in allowing one to know an ethereal world apart. The Tyrolean culture of the Dolomites has an integrity that is rare, in the contemporary world. The mass culture that has created a bland sameness across the globe is largely absent in the Osttirol of Austria. The dynamic is not some "fly trapped in amber" but, rather, a living, breathing culture that is anything but artificial. Austrian "gemütlichkeit" is everything expected. One wishes that one might find more of it elsewhere.
The dichotomy presented to skiers is whether to stay in Lienz or Obertilliach. I fully appreciate the attraction of being at the ski venue and not having to travel to and from the racecourse on race days. Yet I cannot imagine staying anywhere other than in the charming village of Lienz. Its built environment, restaurants, and shops offer an affecting ambiance, without which my visits to the Dolomitenlauf would comparatively lack substance.
As previously mentioned, the best race conclusions are in towns. I have only enjoyed one Dolomitenlauf, in 2006, where there was adequate snowfall to use the original racecourse ending on the Hauptplatz. It was a magnificent denouement to ski through the village and end the marathon on the main square of picturesque Lienz, with its buildings looking as if from a lavishly-illustrated fairytale.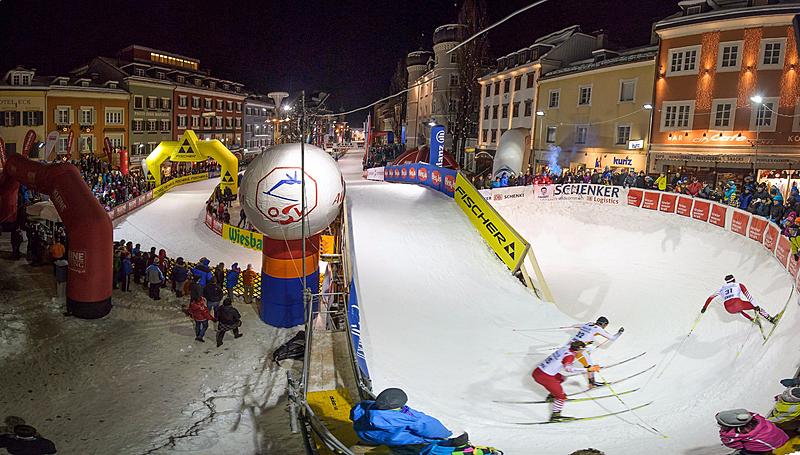 Now the race is invariably held at the Ski Center in Obertilliach. Its amenities are abundant, and the facility is well-managed. Grooming is top-notch. Skiing along the bubbling brook, through the trees, as one trains before the race reminds one of the attraction to Nordic skiing in the first instance. It does not get any better than this.
2017 had the added benefit that there was full sun throughout the days before and during the Dolomitenlauf. One felt as if in the middle of some pleasing dream to inhabit a lovely landscape bathed in the full sun, reflected in the pristine snow. Training was a pleasure. The race days were a contrast to the classic race on Saturday, two or three years earlier, when it snowed at the outset, the snow turned into drizzle, the wind increased, and one became cold and wet as the race progressed. What was gained in 2017 might have been the result of global warming, but it was a welcome side benefit to an alarming trend that ought not be dismissed as inconsequential.
The racecourse was composed entirely of man-made snow. I found its consistency to be granular and far less pleasing that the snow that falls from the sky. It performed okay for the classic race on Saturday but seemed slow to me during the freestyle race on Sunday.
The racecourse was well laid-out. Unfortunately, the lack of snow mandated a nine-kilometer loop followed by three consecutive eleven-kilometer loops. The arrangement made for congestion on the racecourse, a certain level of frustration when the slower skiers were passed by the faster skiers, and a delightful benefit when the much faster skiers were the elite skiers who could be observed by everyone else as they paced down the racecourse in pursuit of the gold medal. There was something exceedingly annoying, however, about having some distance to go and observing other skiers completing the race as one passed through the Ski Center, containing the finish area.
(I took some pleasure in noting the fact that the German word for "Finish" is "Ziel", knowing that the pronunciation is identical to the English word "zeal": Those of us with a lust for Nordic skiing marathons truly be have a zeal for the Ziel).
I became seriously exhausted taking care of tasks to prepare to travel for an extended period, prior to departing home on Tuesday January 10, 2017. Despite all best efforts to care for my health, I coughed up a plug of phlegm en route to the Birkie Tour, on the following Sunday. My condition worsened on Sunday night. I developed a mild sore throat alongside a bronchitis. This was not how I wished to feel as I faced a long trip abroad; particularly given the substandard airline service that monopolies provide the consumer.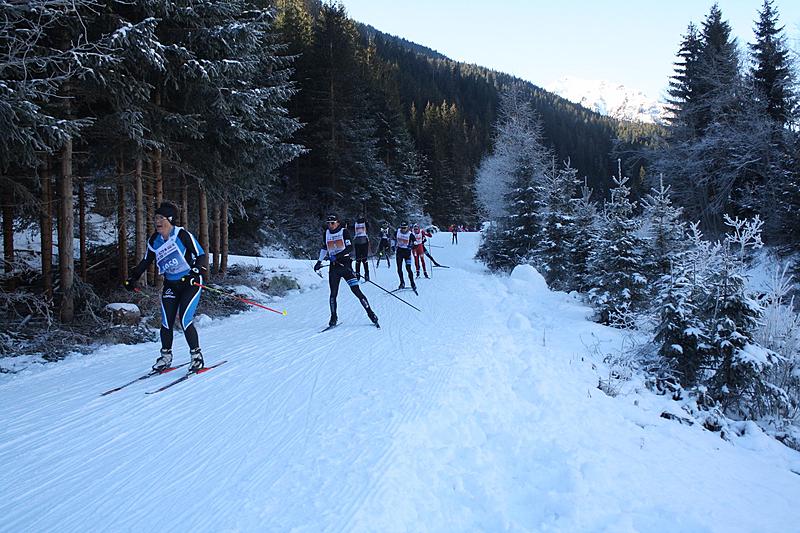 American Airlines which was a reasonably good airline prior to its merger with US Airways has become laughable mismanaged, in my opinion. The last amenity offered to its loyal elite fliers was upgrades, and the one for my trip from Dallas-Fort Worth to London Heathrow was not given until I boarded the aircraft, literally. I am relatively confident that I would have been unable to proceed with the two races on the following weekend if I had been upright in an uncomfortable Coach seat overnight, given how tenuous was the line between being mobile and bedridden. As it was, I had a lie-flat seat in Business Class -- and a commendably attentive and helpful flight crew -- and got a modicum of rest, stretched out my aching back, and departed the aircraft with less muscular discomfort than that with which I had boarded the airplane.
There was a long wait to board the shuttle bus between Terminal 3 and Terminal 5. I had to ask to be seated until my bus arrived. I then went to the Business Class Lounge in Terminal 5, fortified myself with a hot breakfast, and showered, before my flight to Munich. Fortunately, the British Airways flight was uncrowded. I had an Exit Row seat and no one next to me, so I could spread out, close my eyes, and unwind.
Much to my surprise, British Airways does not provide as much as a free glass of water in Coach, these days. There was nothing that I wanted to buy -- or was willing to buy -- so perhaps I taxed myself unnecessarily in that regard.
There was only one lavatory in Coach, and one cannot help but wonder whether it will become another service for which one has to pay, before long. I do not know who at these airlines thinks that the patron base is the equivalent of an ATM machine that dispenses cash, endlessly. Far too much is taken for granted and, at some point, there will be predictable pushback. It will not be pretty.
I apologize for digressing into such discussion but, at some point, every Worldloppet Master flies to some race or another, and these conspicuous inconveniences and intrusions upon one's sanity and well-being are inseparable from one's ability to participate in top form.
After I landed at the Munich International Airport, I discovered that neither my roller duffel bag nor my Ski Box were on the airplane with me. I had to wait until all bags were offloaded to ascertain as much. There was no representative of the airline in the Arrival Hall. It took sometime to find where I might be helped, which was at the Check-in Desk, where only one employee was helping passengers. There was some wait, among a number of irate passengers. Fortunately, when my turn came, the Manager assisting me seemed to be genuinely interested in helping.
I left, hoping for the best. On my previous trip into Munich, I had no clothing. I was on Air France, and it took six days before the bag arrived. I was promised compensation for replacing my missing clothing, so I could ski in the meantime; spent six hundred Euros; and never saw a red cent. I refuse to fly Air France as a result of the callous disregard for promises made. I never will do so again if I can help it.
My mistake on that trip, in retrospect, is that I ought not have left Munich for Lienz until the bags were in hand. This time, I had reserved a hotel room in Munich, thinking that I would be best-served spending a night there, to rest, rather than driving tired through rush hour traffic and a mountain pass. It was an excellent decision. I proceeded to the hotel which I favor in Munich, went to the nearby pharmacy and purchased cures for all that ailed me, and took a walk through the English Garden, before returning to my room and collapsing. I awoke around 10:30 p.m. and, within fifteen minutes, the desk clerk called to inform me that my baggage had just been delivered. (Interestingly, the baggage tags indicated that the bags had never been loaded in Dallas, notwithstanding a three-hour layover there. The airlines appear to take advantage of their monopoly by refusing to provide a modicum of customer care). Afterwards I went to the Spatenhaus, on the Operplatz, and ate a delicious Bavarian dinner. I was the last to leave when the restaurant closed at midnight and returned to bed, enjoying a good night's sleep.
The following morning, I enjoyed a delicious German breakfast buffet at my hotel, arranged for a late checkout so that I could walk again in the English Garden, shopped briefly, and headed to Lienz. The drive took just under three hours.
After I checked into my hotel in Lienz, I headed to the spa and enjoyed a steam bath and sauna, to begin my recovery. Afterwards I dined in the hotel restaurant and enjoyed a good night's sleep. I was amused throughout my stay in Lienz that I was not unlike Benjamin Braddock in the landmark Mike Nichols movie "The Graduate", where Benjamin accompanies Elaine Robinson to the hotel in which he has conducted the affair with her mother, and everyone there knows him. From the hotel owner to the desk clerks to the cook to the waiter to the cleaning woman in the spa, everyone knew me and called me by name. These relationships are key to one's sanity and success at races. I cannot emphasize strongly enough that people need to develop familiar patterns and support networks at the venues that one visits if one plans to pursue multiple Worldloppet Masters. It is far more difficult to perform at a high level absent longstanding alliances that benefit one.
Friday, I repeated the schedule of the previous day. Unfortunately I did not sleep as well as on Thursday night, such that I dragged on Saturday morning. I arrived at Obertilliach less than twenty minutes before the race began. I did not need to stand outside in the cold awaiting the race start, given my ill health. The timing proved to be perfect. I was relatively bundled against the elements which was fortunate. Alongside the stream, in the trees, it was cold, notwithstanding the fact that it was warm and pleasant in the sunshine as one climbed the track back to the Ski Center.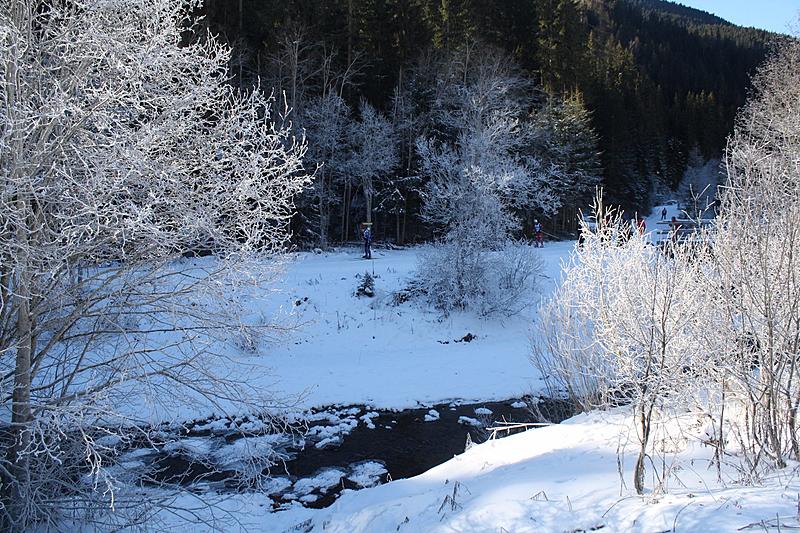 I have recognized, over time, that one will have some days that one is lucky to participate and other days that things do not cohere. After the 2011 Dolomitenlauf in which I sustained a whiplash-like injury, when I came around a corner and confronted seven skiers sprawled onto the racetrack, with nowhere for me to go except into and over them -- my skis went under them and I flew over them, I proceeded to the Italy, where I was treated by Jimmy, the Physical Therapist, and Mister Zanna, the blind Masseur. Mister Zanna kept telling me that he would let me know whether I could ski the Marcialonga. Finally, on the day prior to the race, he pronounced me fit to participate IF I would ski as slow as I possibly could. I did so and enjoyed "a Eureka! moment" when I discovered how delightful to could be to ski a race without feeling pressured to perform at my best. Since that time, I have taken a step back when conditions were unfavorable and enjoyed a ski tour.
The Dolomitenlauf was like that for me. The Pharmacist in Munich thought that I had a mild flu. I am unconvinced, but I was hardly strong, whatever afflicted me. I was pleased to participate and ski forty-two kilometers in whatever time it took me. Afterwards I returned to the hotel for a sauna and dinner and slept far better than on the previous night.
Sunday, I awoke refreshed and was much stronger. I did not feel that I performed as well as I ought to have but, again, I participated and skied, which was something of an accomplishment, and then returned to the hotel for steam, heat, nourishment, and sleep. The following morning, Monday, I shopped, took a walk, and then enjoyed a spectacular drive through the Dolomites, over the Passo Giau, to Moena.
In conclusion, there were two shortcomings to the 2017 Dolomitenlauf. The first was the triple / quadruple loop, although that could not be avoided if the race was to be held, and the second was the goofy hairpin turn before returning to the Ski Center which added distance required to reach a marathon-length race but made no sense intuitively. It is a repetitive problem with the races at Obertilliach that no end of loops are needed, in some form or fashion, to create a racecourse for a Nordic ski marathon. I have no satisfactory answer to the conundrum, but the problem needs to be addressed.
The feed stations were largely good ones although, once again, it would be an improvement if different cups might be used to distinguish the drinks offered. Also, it helps either to have toothpicks with which to take bananas or have a volunteer who will pop then into one's mouth. It ruins ski gloves to coat them with the slime of an exposed banana. As it was, I never took a piece, although I would have otherwise done so.
The Dolomitenlauf staff is among the most outstanding in the Worldloppet series. I am devoted to them and do not have enough good things to say about them. They are attentive. They are kind. They are warm and welcoming. I cannot imagine liking them any more than I do. It warms my heart to be around them and to enjoy their infectious good company.
If one is debating which races to attend, I recommend the Dolomitenlauf as being one not to miss. Everything about it is satisfying: The Dolomitenlauf is everything that a race ought to be and more.
Your Jay!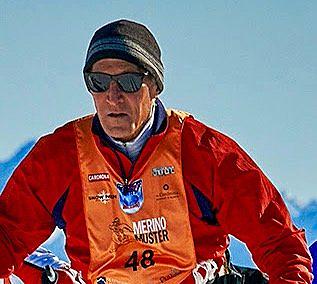 You want to write race diaries for Worldloppet too? Just let us know: presse@worldloppet.com
back to list