König Ludwig Lauf will be held on a 25 km lap
The snow situation in Oberammergau is very challenging and the forecast merciless. But the organizers working hard to ensure the race.
| | |
| --- | --- |
| Date: | 02.02.2017 |
| Contributed by | König Ludwig Lauf |
Last year missing snow and falling rain forced the König Ludwig Lauf to be canceled. Now two days before 2017's edition the weather again shows no mercy on the organizers, but this year nobody gives up to ensure the race. The groomers, organizers, volunteers are working day and night to prepare the König Ludwig Lauf 2017, the 4th FIS Worldloppet Cup stage.
Course reduced to a 25 km loop
Today the OC in a meeting with the Technical Delegates decided to run the race on a 25 km lap. The skiers have are going to ski two laps, making 50 km. This 25 km are well prepared and ready to get hit by the Worldloppet skiers. There are still poor parts, but the organizers are giving everything and announced, that the race will take place for sure, even though the weather forecast predicts warm temperatures slightly over zero and also some rain for the coming days. So it will be a fight until race day, but we can be optimistic.
On Saturday it's the skaters turn and on Sunday the classic technique race is on the program. While the organizers are working hard, the Worldloppet Passportholders are invited to the Ammergauerhaus at bib distribution to visiting the Worldloppet stand to get a small present.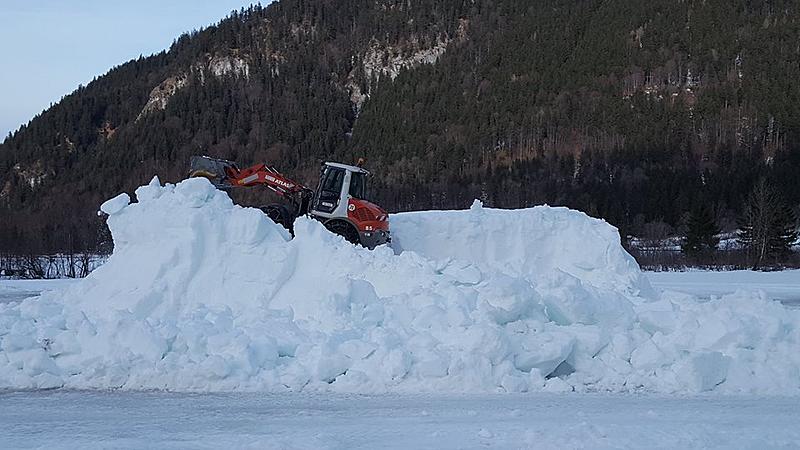 FIS Worldloppet Cup stage 4
Among the almost 3000 participants we can find also the world's best marathon skiers. The 44th König Ludwig Lauf will host the 4th FIS Worldloppet Cup stage 2017. The classic race on Sunday is the competition in which the red bib holders are going to be chased by their followers. Candide Pralong, Team Rossignol Gel Interim, is the biggest favorite followed by his team mate Toni Livers. Among others, the newcomer from Finland, Varis Kari, is also an athlete we should have our eyes on. In the ladies' competition, there is only one name to say when it comes to top-faves: Aurelie Dabudyk from France, Team Haute-Savoie Nordic. She won the Dolomitenlauf and performed very well at the Marcialonga. But Seraina Boner, Rahel Imoberdorf, and Tatjana Mannima will definitely not give here the victory willingly and try to beat her.
See the full elite start list.
We keep you updated about the race, course, weather etc.
back to list