Finlandia Hiihto weekend was a great success
Finnish winners, a new 100-km-race and very good track conditions. The highlights will be published tonight 8:00.
| | |
| --- | --- |
| Date: | 06.02.2017 |
| Contributed by | Finlandia Hiihto |
While the 4th stage of the FIS Worldloppet Cup took place in Germany/Oberammergau yesterday at the König Ludwig Lauf, also in Finland there took place a Worldloppet competition. The Finlandia Hiihto skating event took place in Lahti.
Finnish winners in Lahti
A day before, on Saturday, hundreds of skiers took part in the classic race which was won by Kari Varis and Niina Virtanen. Yesterday it was time for the 50 km competition in free technique. This time Risto Uusivirta was able to make the day his day. 13 minutes before the second placed skier, Vesa Kallio, he crossed the finish line in the Lahti ski stadium, where soon the FIS World Championships are going to take place. Third place goes to Heikki Palosaari (+47sec).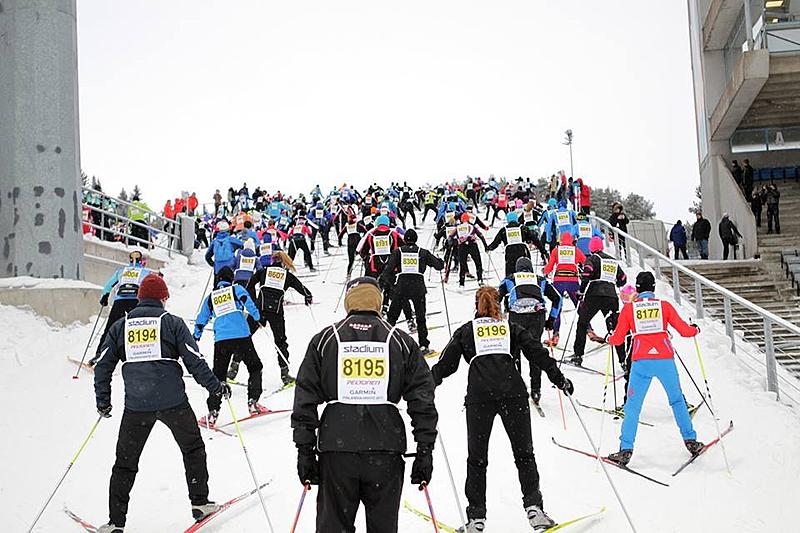 "The culmination point of the race was around 10 kilometers before the finish. There I took over the lead and never gave it away again. One man at a time was left behind then and I was able to keep the pace!", explains Uusivirta his tactics and continues: "I want to take the chance to express my gratitude to the volunteers who did an excellent job to prepare these tracks!"
Clear victory for Alusniemi
The ladies 50 km race was won by Sini Alusniemi. Her victory was clearer than Uusivirta's. 8 Minutes and 24 seconds ahead of second placed Olesya Gusenkova from Russia she reached the Lahti ski stadium. Marja Paatero came home to Lahti another 3 minutes later and grabbed the 3rd place. Alusniemi didn`t have very much to say about her victory: "I wanted to win and I was able to do it!", is all she had to quote.
First 100 km competition in Lahti
Organizers are also satisfied with 2017's event. The attendance goal of over 4000 participates was met and in addition, a new race took place. The 100-kilometer classic race - which had the purpose to celebrate 100 years of Finland - was organized and the participants enjoyed it. Many skiers have expressed their interest towards it in the future. "We haven't made any decisions concerning 100-km classic, but it's not impossible to organize it in upcoming years as well."
Finlandia Hiihto highlights on Worldloppet-TV tomorrow
The Finlandia Hiihto is the second part of the Worldloppet-TV Triple Week. Tomorrow at 8:00 pm CET you can watch the highlights of the Finlandia on Worldloppet-TV on www.worldloppet.com. Currently, you can watch the König Ludwig Lauf edition of Worldloppet-TV.
back to list