Cinema evening at the Birkie: Birkebeinerne - The Last King
Birkie invites to two showings of the action-packed feature film The Birkebeinerne in Hayward.
| | |
| --- | --- |
| Date: | 15.02.2017 |
| Contributed by | American Birkenbeiner |
Besides great skiing action during the Birkie week, from 23rd to 26th February, in Hayward/Wisconsin, the American Birkebeiner Ski Foundation provides also great cinema feeling.
On the 25th and the 26th, the ABSF organized two showings of the feature film about the legacy of the Birkebeinerne warriors, on which the whole American Birkebeiner ski race is based on. The first showing will take place on Saturday (25th) at 7:00 pm local time and the second on Sunday, 12:00 pm at the at the Park Center Theater in Hayward
The legacy of the Birkebeiner warriors
Birkebeinerne (The Last King) is rooted in Norwegian history and tells the story of the very legacy upon which the American Birkebeiner ski race is based. In 1206, Norway was ravaged by civil war, and a boy, Prince Haakon Haakonsson, the illegitimate baby son of a Norwegian king, was guarded in secrecy. He was a boy that half the kingdom was out to kill and whom two brave Birkebeiner warriors, so called because of their birch bark leggings, vowed to protect with their very lives by skiing the infant prince over the Norwegian mountains to safety. The Birkebeinerne (The Last King) is the story of the escape which forever changed the history of Norway. The Norwegian feature film is rated R and is sub-titled in English.
The action film inspired by actual events in Norwegian history is directed by Nils Gaup, who won an Oscar nomination for another wintry Norwegian film called Veiviseren (The Pathfinder). A Paradox Rettigheter AS production, distributed by Magnolia Pictures, the Birkebeinerne film stars Kristofer Hivju (Torstein) and Jakob Oftebro (Skjervald) in the two main roles of Birkebeiner heroes Torstein and Skjervald. Hivju (Torstein) is perhaps best known for his role as wildling leader, Tormund Giantsbane, on HBO's fantasy series Game of Thrones.
Tickets are $10 and will be sold at the door. All proceeds from ticket sales of the film will be used to support the American Birkebeiner Ski Foundation's Phase 2 Capital Campaign and their mission of promoting healthy, active lifestyles for people of all ages.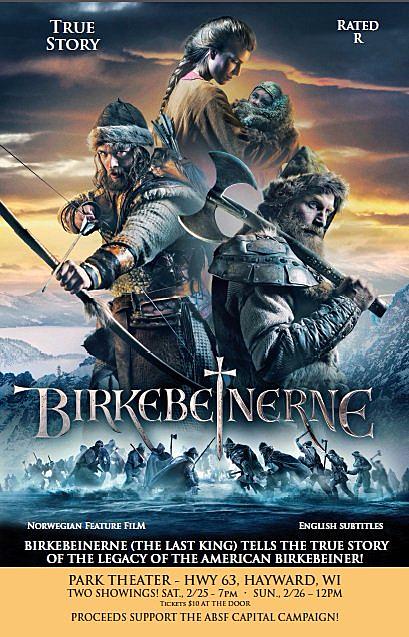 back to list