Worldloppet triple weekend (1/3): Vasaloppet 2017
On Sunday the highlight of the cross country skiing winter is taking place. Read the must-knows about the king of races, the Vasaloppet.
| | |
| --- | --- |
| Date: | 02.03.2017 |
| Contributed by | Vasaloppet |
A busy Worldloppet weekend is awaiting us with three competitions beginning with the Polish Bieg Piastow and the Demino Skimarathon in Russia and ending with the king of cross country skiing races, with the Swedish Vasaloppet.
The 93rd Vasaloppet since the beginning in 1922 will start in Berga by in Sälen on Sunday March 5, 2017, at 08:00. This year marks the centennial of the birth of Nils "Mora-Nisse" Karlsson, who won Vasaloppet more than anyone else, and Vasaloppet is asking everyone to ski the race with a red cap to honor this skiing hero. As usual, Vasaloppet has collected and compiled many interesting historic facts, statistics, and trivia, as well as current news for the race on Sunday:
This is the 93rd Vasaloppet and the 21st with a women's competition class. The first Vasaloppet was on Sunday, March 19, 1922. (Three races have been canceled: 1932, 1934 and 1990.) Since 1948 the race has always been run on the first Sunday of March, except for 2015 when it was moved due to the World Ski Championships in Falun.
The first live TV broadcast of Vasaloppet took place in 1966. This will be the 40th time that Vasaloppet (in parts or in its entirety) is live transmitted, and it is the 35th time that the Vasaloppet start is broadcasted live on television. 1973 was the first year with a live broadcast in colour. Since 1992 Vasaloppet has been shown live every year. Vasaloppet and SVT's current broadcasting agreement extends until 2020.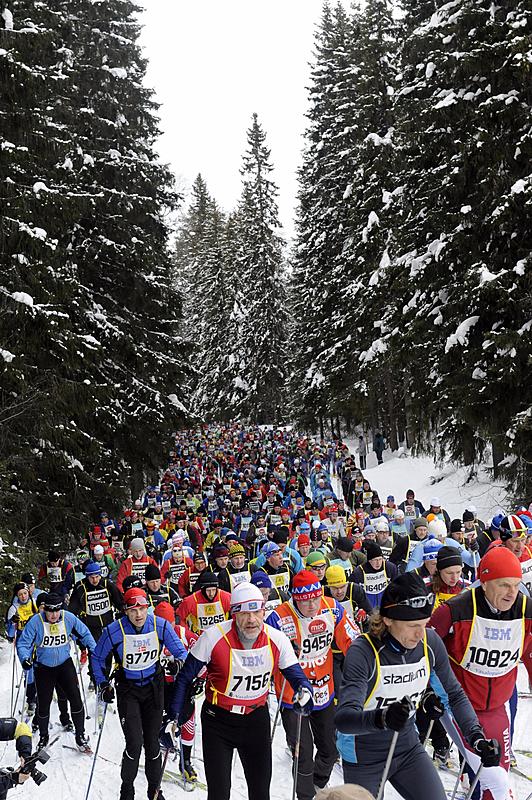 Vasaloppet 2017 was fully booked in four minutes when registration opened in March 2016. This means 15,800 registered participants. The record number of starting participants is from 2010 when 15,709 people took on the challenge. (But 2016 saw the record number of registrants: 16,502.) 2017 is the fifth year in a row where over 66,000 participants have registered for the various races in Vasaloppet's Winter Week.
Vasaloppet 2017 has participants from 43 different nations, counting Sweden. About 3,400 of the registered participants come from other nations than Sweden, most from Norway (1,145). Then come Denmark (555), Finland (554), Czech Republic (197), Germany (190), Switzerland (142), Estonia (130), Italy (71), Austria (70), Russia (69), Iceland (63), the Netherlands (43), and France (40). In total the Vasaloppet Winter Week 2017 has over 7,200 international participants from a record number of nations. Counting Sweden, we have 59 nations according to the latest statistics.
Vasaloppet is asking all participants to wear a red cap in honour of Nils "Mora-Nisse" Karlsson (1917–2012), who won Vasaloppet more than anyone else. This is because 2017 marks 100 years since "Mora-Nisse" was born and the red cap was one of his hallmarks.
In Vasaloppet 2016 the winners were John Kristian Dahl, Norway, (with a time of 4.08.00) and Katerina Smutná, who competed for Austria last year but this year has returned to representing the Czech Republic (her winning time was 4.17.56).
Some real supermen can be found in the elite group: Stanislav Rezác, Czech Republic, participates in Vasaloppet for the 19th time. (He's been in the top ten thirteen times and the top three six times, but no win. He has been in the top 10 these past seven years! 9th in 2016.) Jerry Ahrlin participates for the 15th time. (Eight times in the top ten, four in the top three, but no win. 7th, and second best Swede, in 2016.)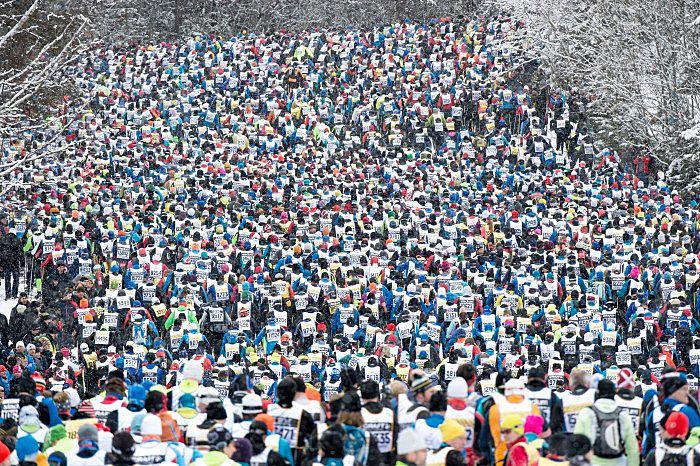 The first prize this year has been raised for both the male and female winner to 93,000 SEK. (The first prize is now raised by 1000 SEK each year.) The winners also get a trophy, a garland, and a kiss!
There are seven spurt prizes for both men and women: 10,000 SEK for the spurt prize in Evertsberg (The Hill Prize) and 5,000 SEK at the six other checkpoints; Smågan, Mångsbodarna, Risberg, Oxberg, Hökberg and Eldris. Vasaloppet's total prize sum for 2017 is over 550,000 SEK.
The current record time for men is 3.38.41 (Jörgen Brink, 2012) and for women 4.08.24 (Vibeke Skofterud, 2012). A victor breaking either record will, this year, not receive a car but rather Vasaloppet awards a record bonus of 50,000 SEK.
The Vasaloppet track is a nature reserve and this year Vasaloppet has taken serious measures to rectify the littering that has occurred along the tracks during races. If a participant is caught throwing litter they will be given a time penalty of 15 minutes. Vasaloppet has given out the following regulations: "During Vasaloppet's Winter Week 2017, throwing litter will be permitted in three different ways: In the bins at the Vasaloppet checkpoints; In the marked littering zones between each Vasaloppet checkpoint; Where you as a participant know that a team leader or associate will pick up what you throw." For elite skiers, a special dialogue has been held and each team will be responsible for, and pick up, any waste that is thrown along the track by team skiers.
Vasaloppet's operations annually generate about 20-25 million SEK for the sports movement, of which about 50 percent goes to the owning clubs (IFK Mora and Sälens IF), about 30 percent is compensation to clubs who supply functionaries, and about 20 percent is in the form of fees to the Swedish Ski Association and Swedish Cycling Federation, which in turn is distributed to their sports clubs.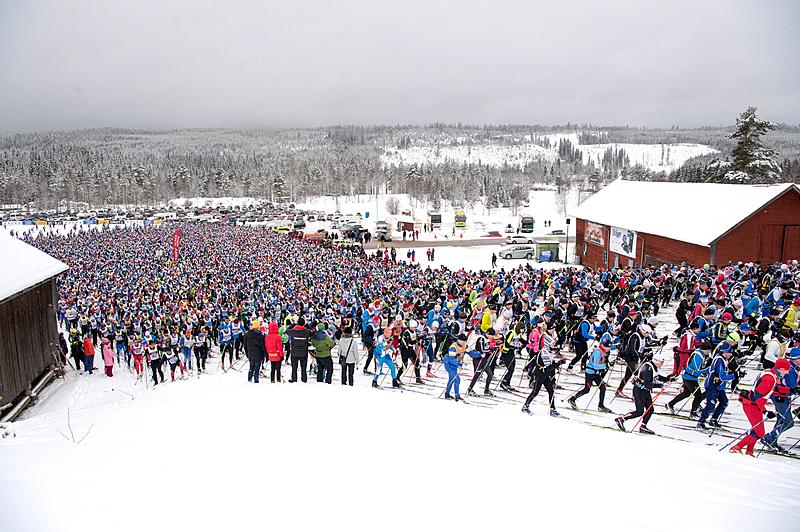 You can find all the information about the Swedish Worldloppet race on our website and Facebook, Instagram and Twitter channels.
back to list